K4KDR posted this on the Facebook Group site
https://www.facebook.com/groups/sdrplay/
I learned a couple of lessons this week with my SDRPlay that I thought might be worth sharing. This might be a lot longer than most of the posts here; I hope that's ok. Very sorry if I'm out of line.
Summary: L-Band Inmarsat / poor initial results from home-made patch antenna / better results after some changes
Note that keeping costs to near zero was a priority.
There were several reasons that I upgraded from a generic RTL-SDR to the SDRPlay & one of them was certainly the ability to explore the higher frequencies with more bandwidth and greater sensitivity. Turns out that receiving a signal from a geosynchronous satellite some 23,000 miles (~37,000 km) up is a little more tricky than decoding CW on the 40 meter band!
So after searching the web and reading everything that I could find from all the wonderful people who have shared knowledge on the subject, I decided that I needed to build an antenna. Since I have had such great success with the QFH antenna that I built for 137MHz weather satellites, I used an online calculator (
http://jcoppens.com/ant/qfh/calc.en.php
) to build a tiny little QFH for the 1.5GHz band. Imagine my surprise when I actually saw signals! They were too weak to decode but it was just cool seeing data streams from so high up (both in frequency and altitude).
About the same time I started seeing references to a "patch" antenna that was supposed to have some directional gain. I found this YouTube video particularly interesting:
https://www.youtube.com/watch?v=OY0hvWsH-mg
... so of course I HAD to have one. The video provided the dimensions but not quite all of the construction detail that I needed. I found a very helpful page that gave more detail:
http://www.rc-cam.com/gp_patch.htm
... after shopping for materials and ordering a suitable SMA connector online (
http://www.amazon.com/gp/product/B005T9OY04
), I put together an L-Band patch antenna as precisely as I possibly could. It was a very fun build and I was super pleased with the finished product.
Convinced that I was going to immediately receive every signal from every satellite in the entire world, I searched online to find out the compass direction to the nearest Inmarsat satellite. I went to the appropriate window in my house, connected the nice new patch antenna, and started tuning up through the 1.5GHz band. And... nothing. Well, not "nothing", but no signals stronger than I saw on the QFH and certainly nothing strong enough to decode. But hey, it was a GOOD-LOOKING antenna!
So it must be my location, right? First chance, I drove to an area with open sky and tried again. The signals were a LITTLE bit stronger and if I held my mouth just right, I could actually decode one or two of the "aero" channels up around 1.545. Being on a budget, I took that as a victory!
Since then I have been thinking about getting an LNA as well as maybe building a higher gain antenna. But the other night, I was once again exploring the L-Band and the results were the same. Then something strange happened... as I was moving the antenna around, my signal jumped. I started slowly moving the patch antenna around the window over the kitchen sink (south) and after a lot of trial and error, found a dramatically higher signal on those 1.545 aero channels in one exact position. My decode rate went WAY up but the signal was still borderline and often faded below the level required for usable data.
Lesson #1: Never assume that one antenna behaves like all the others. Apparently things are quite different with THIS type of antenna and/or at these higher frequencies. (both of which were new to me)
So, short of buying an LNA or building a bigger antenna, was there anything else that I could do to improve my signal? I was using a decent SMA-SMA cable but was there room for improvement? In anticipation of maybe having an LNA one day, I ordered a couple of higher quality 30cm MPD Digital SMA-SMA cables on Amazon. (
http://www.amazon.com/gp/product/B00AMZTI6U
) Those arrived today so I got everything setup over the kitchen sink again. I'm sure that you can see Lesson #2 coming... my signal jumped again - significantly!
It's so tempting to use whatever cables you have laying around, but on this project I got a reminder: Not all cables are created equally. Lesson learned.
I still don't quite have enough signal to decode misc. Inmarsat-C channels but I sure do see a lot more of them now. And as for my happy aero place up at 1.545... well, I'm all over those channels now and pretty happy about it. I'm locked solid with 4 nice dots on the constellation view and a nice stream of messages being decoded.
Below are a couple of screen shots if anyone has not seen what you find up there:
(1200bps on the wider data stream and 600bps on the narrow stream)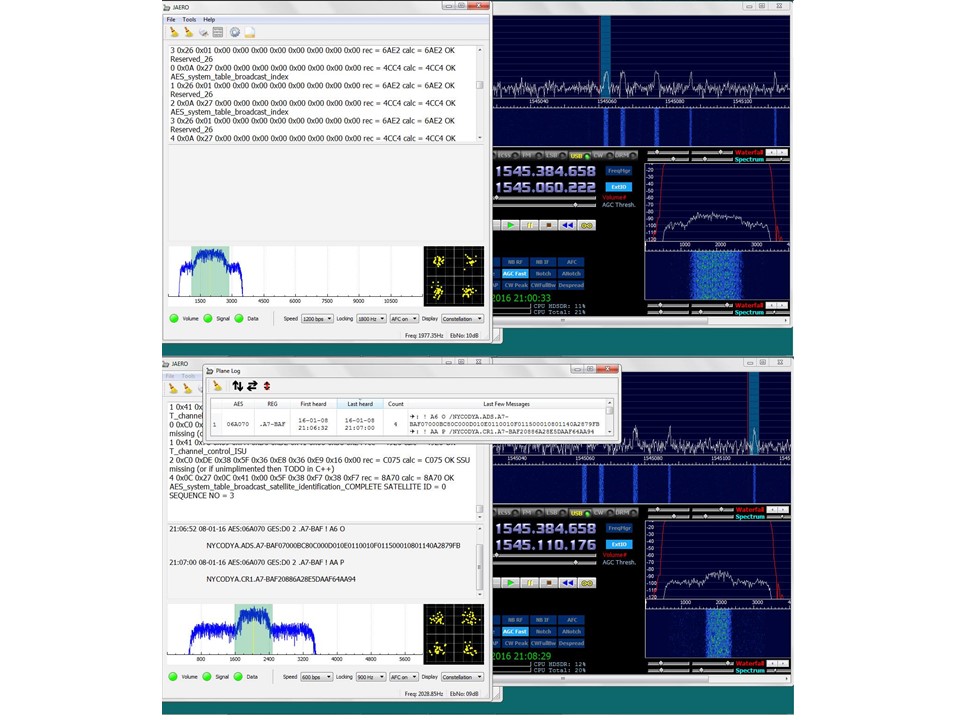 So if you have read this far, I hope you might have found something helpful, interesting, or both. What I really wanted to do with this was pay back a little bit to all the people who have posted articles and videos online for me to learn from.
73 everybody!
-Scott, K4KDR
Montpelier, VA USA